The Interest Calculation Report will calculate the yearly amount of interest accrued from the Resident's Last Month Rent Deposit account. The report is accessible from e-Reports>Financial>Trust>Interest Rate Calculation.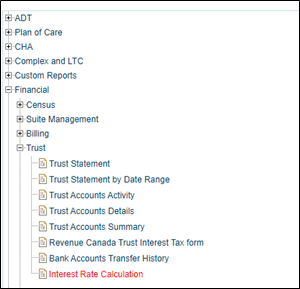 Prerequisites and Setup
Users must have permissions enabled to use the e-Reports.
Instructions
Select the date period to calculate. Note that since the interest rate is set annually, the date range should be within the same calendar year. (i.e., January 1, 2022 - October 30, 2022).
Tip: click on the date field to select the previous year.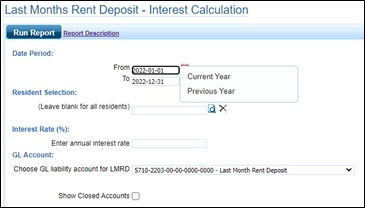 Select the resident or leave blank for all residents
Enter the annual interest rate (for instance, enter 1.2 for 1.2%) with the provincially designated rate.
Choose GL Liability Account, leave as default for Last Month Rent Deposit account.
Run report