MED e-care is excited to announce our new 'Account Management' feature. It gives Senior users the ability to reset passwords, activate/inactivate accounts, identify locked accounts and check the latest login status of other users in their home/facility.

The Account Management Grid
The grid has the following columns: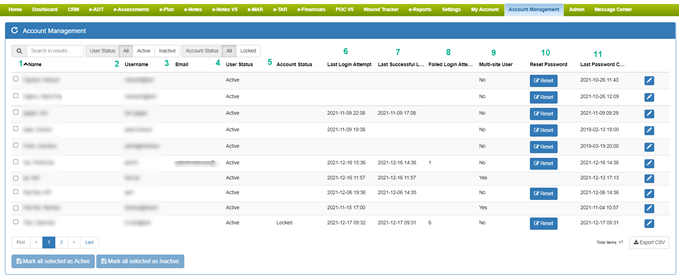 Name – First Name, Last Name.
Username
Email – It shows the users email address (if this has been entered on the 'My Account' page).
User Status – Active or Inactive.
User status can be changed by clicking on the edit icon:
Account status
Account status shows as "Locked" if the user has locked themselves out by entering the password incorrectly multiple times as defined in the security policy.

Account status can be unlocked by waiting out the lock out duration or by resetting the password.
Last login attempt - shows the time when the last login was attempted irrespective of whether it was successful or not.
Last successful login - shows the last time when the user logged in successfully.
Failed Login Attempt - shows the number of unsuccessful attempts since the last successful login.
Multi-site user – Yes or No
If the user belongs to more than one site in a corporation/group.
Reset Password button
User can reset password for another user by clicking on the reset password button.

Not shown for multi-site users or inactive users.
Last Password Change – Shows the time when the password was changed last time.
By default, "All" users are showing. Users can be filtered by their user status or account status

Users can select multiple accounts to activate or deactivate. By default, 'Mark all selected as Active' and 'Mark all selected' as Inactive are disabled. Multiple users must be selected to use these buttons.

Accessing the 'Account Management' Tab
To grant access to the Account Management tab on the green bar, ensure that the 'Account Management' User Role is ticked.
Navigate to Settings > Employee Users Setup

Select User

Select the tick-box next to "Account Management" (leave any other User Roles ticked)

Click 'Save'



Please also see our quick guide on how to reset a users password with account management: