On your MED ecare site you can add and manage prospective residents (leads) without admitting them in the ADT. You will also have the ability to set up contact details of your residents relations and store details of any communication in the CRM section on your site.
In order to do this you would need us to switch on the CRM module for your site. Please contact our support team and request this with one of our agents.
This article will guide you through the following areas of the CRM:
How to add a prospective resident in the CRM
Login to MED ecare and go to CRM
Click on Manage Leads
Click on 'Add Lead' to add a new potential resident or active resident to the CRM


Fill out all required information for the potential resident including Client Status and Birth Date.


Client Status
You should categorise your potential resident under one of the following options. You are able to manage the status as and when this changes and can filter by Lead Status when searching the CRM.
Please select one of the 4 categories to fit the status of your client.
Cold Lead
Hot Lead
Verified Lead
Not Verified


Related Contact Details
Once you have filled in the Client Information, you now need to fill in the contact details of the clients relatives. This is located under the heading Related Contact Details.
Just fill in all the contact details of the relative and click Save.
If you have more than one contact, simply click on Add Contact to enter details of any additional relatives or contacts.


Once you have added all the required information, any saved details will show on the Manage Lead page where you can edit the information and add details of any communication with the relatives or client.
Managing a Client
When your client has been created, you may want to add communication, add a task or enter dates to remember for this resident. This can be done in the Manage Lead section.
On the Manage Lead page you should see a list of all clients that have been created. To manage this, simply search for and select the client you would like to edit. You can type the name in the search box or filter using the Client Status option.
Adding Communication
Search for and select your client
Scroll down to Communication
Select communication Type
Select Date
Enter details of your communication with the relative or client
Click Add

Once you have added all the required details, any saved communication will show under Completed Tasks & Communication


Adding a Task
Search for and select your client
On the Right Side of the screen you will see Upcoming Tasks
To add a new task, scroll down the page and fill out task Type
Enter the date the task is set
Enter the task description
Click Add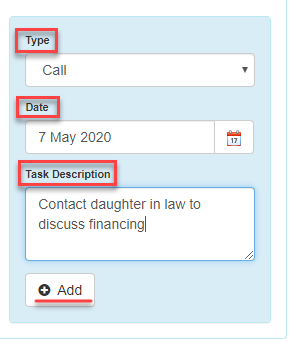 Once you have completed all the required fields, any saved tasks will show under Upcoming Tasks. When you have completed the task, put a tick in the check box and this will move to Completed Tasks & Communication.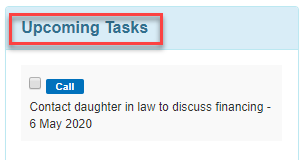 Adding Dates to Remember
Search for and Select your Client
On the right side of your screen you will see a box to enter Dates to Remember
Enter Type
Enter Date
Enter description
Click Add


Once you have saved all your required information, it will be displayed under Dates to Remember
If you need more information or support regarding the CRM feature, please contact our helpdesk using one of the following options.
Canada & United States: 1 800 387 8903 ext 3
United Kingdom: 0161 236 4576
UK freephone: 0800 802 1230
Or email: support@mede-care.com