Fresh off of MED e-care's successful Beta launch of eNotes(New) we are pleased to announce that the update to eNotes is now available for all clients. 
The eNotes(New), which will simply be called eNotes once all client's have received the update, includes a lot of the great features our client's have been feeding back to us over the last few years about eNotes.
These features include:
Add Vital Sign Readings for any note
Feature Updates
Single note box, no more deciding between Non-incident and Incident
 The new simplified e-Notes means that your colleagues can simply write their notes with out any unnecessary clicking. Simply open e-Notes(New), select your resident and write your note.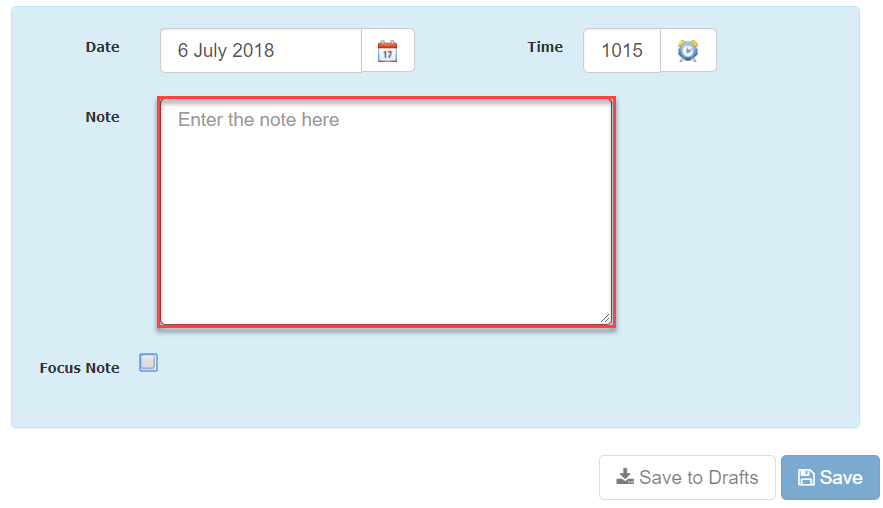 New ways to categorise your notes
 There are now FOUR ways to categorise your notes
NOTE - is displayed with a green banner and is not associated with a category
FOCUS - is displayed with a green banner and is associated with a category
INCIDENT - is displayed with a red banner and is associated with a category
INCIDENT with Follow-up - is displayed with a red banner, is associated with a category and displays a blue highlight to show there are follow-ups associated
 The user does not need to decide which of the available options available above until they have finished writing their note. Once they're written their note, if they click the tick-box beside Focus Note, they will be able to categorise the note and then decide if it warrants being tagged additionally as an incident.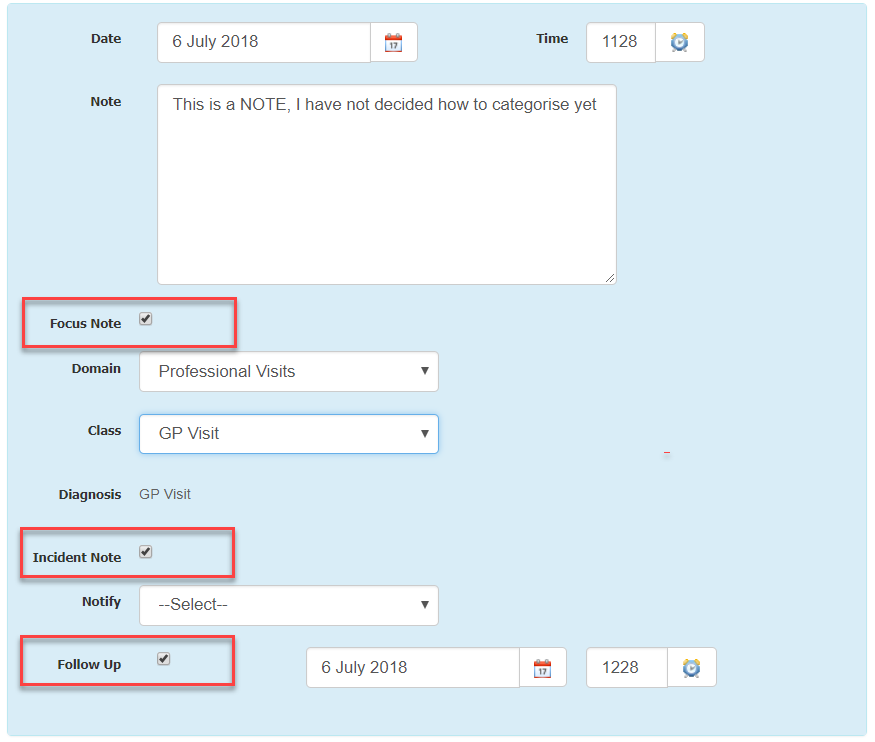 Your home/facility can also use the settings to set your own preferred note type if you would like to encourage FOCUS or INCIDENT notes. There is even a setting to force these settings. Click here for more details.  
Incident Notification
 If you or your colleague has created a INCIDENT note, you will now be able to notify different teams within your home about the incident at their external email address. 
Teams for the notification can be setup using the Supervisory Team settings available here 
Once teams are setup, simply select the team you want to notify in the selection drop-down

The email will come through to their emails without resident details but will notify them about the type of incident that has happened and they will be able to login to the DASHBOARD to see all recent incidents which have happened within the home. 
Scheduled follow-ups
For INCIDENT notes,  you can now schedule follow-ups to make sure you and your colleagues are on top of the needs of your resident/service user. Simply tick the box next to "Follow-up " and confirm the date and time you want to follow-up.
The default follow-up is 1 hour from the time the incident was recorded but this can be amended to match your requirements in each situation.

This will flag any incomplete follow-ups on the new Incomplete Follow-ups widget. 
To complete a follow-up from the Notes page of a resident, simply click the Follow-up button to the right of the list of notes. 
Document Upload
If you have created either a FOCUS note or an INCIDENT note (see above), then you will be given the option to upload an attachment * which will be stored along with your note. Attachments can be PDF, Word, Excel, PNG or JPEG files. 

*Document Upload is an Add-on feature for the Clinical Application modules. Please contact your systems executive to find out more or to start a free trial 
Fantastic search
Finding important notes about your residents couldn't be easier. The quickest way to search is to use the "Find in Notes" field for specific keywords which will quickly pull off any notes that contain that keyword from all categories.

If you want to filter further, you can user the filters below:
Incident Reporting
Integration with Care Plan reviews 
Integration with MAR Notes
Integration with Wound Tracker Notes
Easier batch notes
Follow-up dashboard widget
Using the scheduled follow-up notes feature from page 4 will allow you to view all scheduled follow-up centrally on the Dashboard.
To create an unscheduled follow-up, use the steps below:
If you are writing a note which is related to a previous note, then it must be written as a FOLLOW UP NOTE
To write a FOLLOW UP NOTE, find the note you'd like to follow-up on and click "Follow-up" from the actions column.
If a resident is in Hospital, you DO NOT need to write new notes every day. Just add a follow up note to the original note if you need to document something new.
This is done so that we can run reports surrounding incidents and can easily trace the entire incident from start to finish.