1. Live Support Chat
In case you need assistance or guidance on how to do something in the system, you are now able to Chat with a MED ecare agent on your screen. Just click on the "Support" tab in the top right hand corner to start this process.

2. Check for Overdue Medications
Remember to check that there are no OVERDUES at the end of your round. Overdue medications are like missing signatures on a paper MAR - you must record every medication as either "Administered" or "Not administered".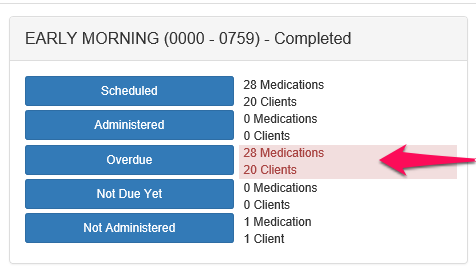 3. Complete Follow Ups
Remember to check that you have completed your FOLLOW-UPS from any PRN medication that you have administered - check the Hotlist

4. Update Stock
Take action when you see that the inventory button is ORANGE - the system is warning that you may run out of stock.

5. Negative Stock
Take action where you see that the inventory button is RED - the system is warning that your on-hand figure has gone negative.

6. Order Ending
Take action when you see an "order ending in x days message" - In the example below, the medication will no longer appear in the medication rounds in 3 days time.

7. Stay Secure
Never share your PASSWORD with anybody else or save your password on any shared browser.
8. Resident of the Day
Carry out your "resident of the day" checks to maintain accurate stock levels.
9. Seek Help
MED e-care's helpline is available 24hrs a day, 365 days a year. You can contact us the following ways:
Canada & United States: 1 800 387 8903 ext 3
United Kingdom: 0161 236 4576
UK freephone: 0800 802 1230

Or email: support@mede-care.com
10. Logout from your Account
Remember to LOGOUT when you have finished.