ADDING MODERNA / PFIZER VACCINE TO MAR FOR ALL RESIDENTS
1. Navigate to "Add to MAR/TAR batch" and select all required residents.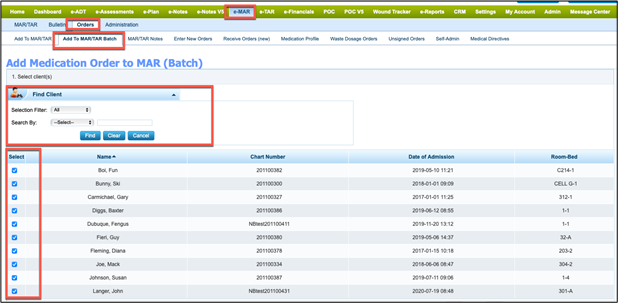 2. Enter proper DIN for vaccine:
02510014 – Moderna Therapeutics Inc Vaccine
02509210 – Pfizer – BioNTech Vaccine
Select vaccine from the populated list.
All relative information for the vaccine will automatically populate.
Enter total dispensed amount (depending on type of vaccine – i.e. 0.5 for Moderna)
Duration of the Rx is = to interval + 1 day.

+1 day is for both doses to show on the MAR
It is IMPORTANT to enter the same amount of days in the duration as in the frequency cycle (see next screenshot) so that the vaccine cycle doesn't start over after the second dose.
Frequency
Select « Every » for freqency
Start date = day of first administration of vaccine
Cycle = 29 days for Moderna / 22 days for Pfizer (refer to your physician instructions)
NOTE: Because this is a cycle, you have to enter 1 extra day to the cycle.
Enter time, amount (i.e. 0.5ml/0.3ml) and unit on both days
Enter instructions.
SPECIAL NOTE: It is very important that the duration of the Rx needs to be the same length as the cycle as to not repeat
29 days for Moderna
22 days for Pfizer
The Vaccine will only display on the days it is to be administered
e. Monday the 4th, followed by Monday the 1st (as per screenshot)
NOTE: You should follow up with entering the immunization information within the -Notes Batch immunization in order to be able to run reports.
Add Pfizer COVID vaccine to MAR
https://www.youtube.com/watch?v=mjKM4E0yD_w
Add Moderna COVID vaccine to MAR
https://www.youtube.com/watch?v=VF9_KJq7pDw